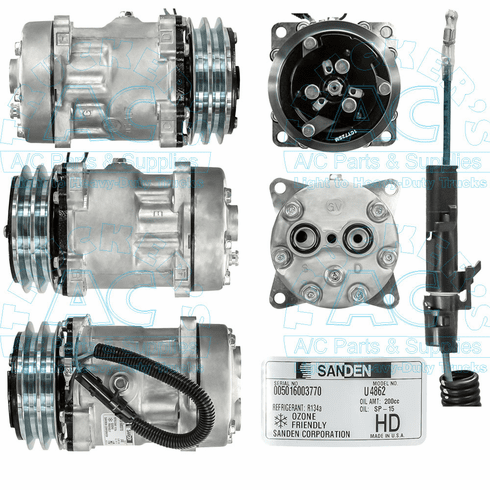 Sanden Compressor - Genuine OEM Grade SD7H15HD-FLX
Make: Sanden

Manufacturer #: 4862

Application: Farm & Off Road Applications

Description: FLX7 SD7H15 COMP.W/125MM 24V

Volts: 24V

Clutch Diameter: 125mm

No. of Grooves: 2 groove

Belt Type: Two 1/2'' Belts

No. Comp. Cylinders: 7 cyl

Comp. Displacement (ci): 9.5 cu.in.

Factory Oil Charge: 200cc Oil

Fitting Port Position: Horizontal

Fitting Style: Rear Universal O-ring FLX-7 Pad

Head Type: GV

Wire Type: 1 Wire Male Packard #12015791 W/ Diode & Bullet Jumper

Replacement Clutch Assy.: 02-3471 see note

Replacement Head Assy: 03-6554

Model: SD7H15HD-FLX

Mounting Type: Ear 8 Long

Oil Type: PAG100

Product Name: Compressor

Refrigerant Type: R134a

Rotation: CW

Shaft Type: Long Key Shaft

Notes: * OE Head has PRV, ours does not

Diode Protection: w/diode

Truck Air Oring 1: 16-4224

Truck Air Seal 1: 16-4224

INTERCHANGE: AIRSOURCE 5287; ALLIANCE N83-304582; FLEETRITE ZGG705142; KYSOR 1410048; RED DOT 75R-89334; SANDEN 4449, 4862, 4863, 7824



All Our Parts are Brand New and covered by the Original Equipment Manufacturer's Warranty

We carry a full line of Sanden compressors, Seltec/Valeo compressors along with all other brands for Freightliner, Ford, Kenworth, Mack, Peterbilt, Volvo/GM Trucks, Caterpillar, Bus, RV and Van AC parts.